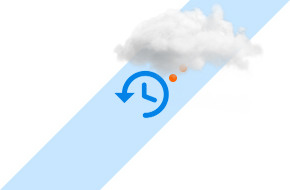 Remote backup
Have an automatic backup of your data at all times!
This ensures that you always have an up-to-date copy of your data that is safely stored at another site.
The purpose of this contract is to perform incremental backup of your company's data on our remote backup systems.
Nexan IT services
Periodic remote backup of your data.
Sending a daily backup report by email.
Restore data over an HTTPS connection.
Access to your data via a secure VPN tunnel.
Password access at 2 levels (program configuration and data access).
File version tracking (you can access the different versions of your files day by day, up to 64 days before the last backup.
Nexan Informatique backs up its backup server according to the following scheme:
Complete copy of your data on tape (every weekend, kept for 3 months).
Incremental copy of your modified data on tape (every day, kept for 3 months)
Quarterly backup on tape (March, June, September), kept for 1 year.
Annual archiving on tape (December), kept for 10 years.