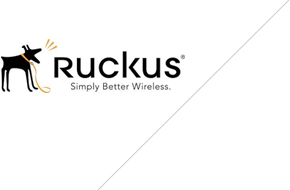 Ruckus
Optimal and secure WiFi coverage for all businesses.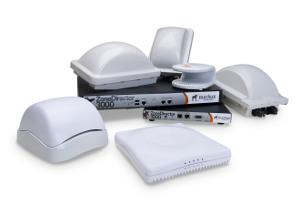 Is your organization looking to deploy a WiFi network with optimal security and coverage? With the Ruckus ZoneFlex range, you get greater reach with fewer access points, high security, bandwidth optimization, and ease of installation and deployment. All without changing your current network infrastructure, as Ruckus does not require the use of proprietary switches!
Depending on the model, Ruckus ZoneFlex access points consist of an array of 8 to 14 antennas inside the enclosure, capable of transmitting directionally and intelligently in response to interference and reception points. The signal adapts to the environment and is continuously optimized.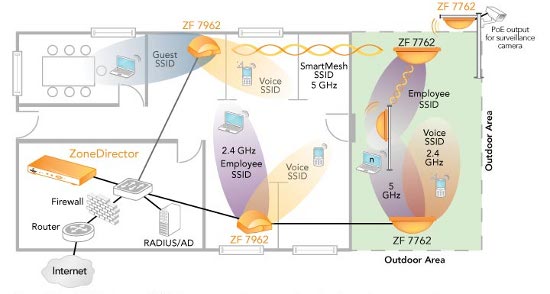 Presentations
Features
Easy deployment and administration of a wireless network composed of 2 to 250 access points.
Up to 16 simultaneous networks (SSID) per access point.
Centralized management of access points via a graphical interface on the Zone Director controller.
User identification and automatic management of each user's personal encryption key.
User-friendly functions for guest access.
Patented BeamFlex transmission technology to avoid interference.
The APs can be connected to an Ethernet network or via a repeater (bridge) using SmartMesh technology.
Integrate with your current network infrastructure without changing it, as Ruckus does not require the use of proprietary switches!
Product sheets
Independent performance test
Independent analyst Tom's Hardware tested the leading business WiFi solutions (Aruba, Cisco, HP, Apple, Meraki and Ruckus Wireless). Ruckus Wireless was the clear winner as the best performing WiFi system in high-density, high-disturbance WiFi environments. Read the Tom's Hardware review.
Certification

Nexan IT is a certified Ruckus Big Dog Reseller for Switzerland.
This label assures you of a quality service provided by engineers who have followed the editor's training and passed the exams.